Whether you are a competitive strength athlete or planning on competing with any competitive spirit, I would suggest picking up the book Cutting Weight by Brian Carroll. This book is THE solution to cutting and doesn't involve any bro-science. Brian Carroll holds world records in multiple weight classes and has helped guide other world record holders like Al Caslow, Shawn Frankl, Brian Schwab, and Jesse Burdick.
This book is going to give you results you need at weigh in and not compromise the level of performance that you've been working so hard to get to. There is no other product out there with as much proven information that works.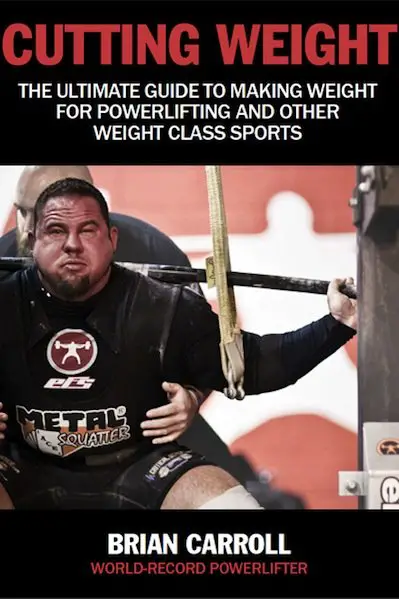 If you do not follow powerlifting, some of Brian Carroll's highlights in his powerlifting career include:
In the 220 class: 1030 Squat, 633 Bench, and a 755 deadlift which is a 2375 total. This is the 10th best of all time.
In the 242 class: 1064 Squat, 785 Bench, and a 771 deadlift which is a 2570 total. This is the 5th best of all time.
In the 275 class: 1185 Squat, 785 Bench, and an 800 deadlift which is a 2730 total. This is the 3rd best of all time.
As you see, Brian has been in many different weight classes and never has had to compromise his performance for it.
Our buddy Clint Darden made a video review that hits it on the head!
[youtube id="4qleSrsu8Ck" width="600″ height="350″]
Conclusion
If you want a book full of knowledge on cutting, this is it. He gives you proven, easy to follow information with lots of options to make weight safely.
Overall I give this a 5/5.
Price:
The retail price of this book is $69.95.
EliteFTS offers the book for $39.95.
Be sure to pick up the book here at EliteFTS. This is an e-book so you get it as soon as you hit purchase.