Picking the right gym for you is important to you achieving your goals. When choosing your gym, you must know exactly what you are looking for in a gym and pick one that best suits your needs.
There are many different things you need to take into consideration before jumping into a commitment at a gym.
What are your goals?
Think about what you want to achieve at the gym. Do you want to take up Pilates or Yoga? Are you trying to get fit and want a place that you can go swimming, play basketball, and have a safe place to enjoy other company? What about the people who want to be a competitive bodybuilder, powerlifter, or strongman?
Take into consideration the goals you have and know what you need your gym to have. Make a list of what you are looking for in a gym and categorize the list with "must-haves" and "would-be-nice-to-haves."
Basic Things to Look For
Convenience
Ideally, find a gym within a 5 mile radius to your house or work, whichever you will be traveling from the most. Having a gym you have to make a journey to get to might deter you from going regularly. Sometimes people will make excuses to not go to the gym, so try to find a gym that's close.
It takes special dedication to drive 30 minutes or more to get to your gym. But doing what you have to do to achieve your goals is something that you will have to do to succeed.
Equipment
Finding a gym with the right equipment is essential to achieving your goals. If you want to begin training as a powerlifter and there is no squat rack in the gym, you are not going to be able to train correctly.
Improve Conditioning
If you are looking to improve your conditioning and simply "get in shape" then you want a gym that has plenty of cardio machines and other areas for activity such as sports or swimming. Check the gym out and see what type of conditioning equipment they have. Check out the machines around the facility to see if the selection is suitable for your goals. If you want to do some sort of circuit training and want to do a full body workout, ensure the machines are going to achieve what you want.
Strength Training
If you are training to be a strength athlete, there are some "must-have" pieces of equipment you need to make sure the gym has so you can train effectively.
Olympic Barbell – In order for you to do the main compound lifts of strength training, you must have a barbell.
Power Rack – A power rack or squat rack is one of the most important pieces of equipment in a gym. You can use a power rack for multiple exercises and it is the most functional piece of equipment.
Dumbbells – Having plenty of dumbbells is important to your training. You can get away with barbell only training, but having a great selection of dumbbells is important. From 10 all the way to 150 pounds is ideal.
Flat Bench – A good sturdy flat bench is important to any training routine.
Plenty of Plates – This might sound stupid, but when you get really strong, having to hunt down plates to use only ruins your focus and concentration. Fighting over plates is a headache and you do not want to have to wait on someone to finish.
Pilates and Yoga
When you are looking for a place to do Pilates or Yoga, check out studios around the area. They seem to be a better host for these type of classes and you may benefit from a smaller studio setting. Finding a gym with separate rooms or places specifically set out to do Pilates, Yoga, or stretching is important. You don't need some sweaty meathead gawking at your downward doggy pose while he is curling.
Classes
Classes are a great for anyone who would like to take part in them. A lot of people new to the gym enjoy classes because of the structure and friendships that you build while in them. If you are interested in classes, ask for a schedule of classes offered. Some facilities offer free classes with memberships and have a first come first served rule while others make you pay for classes separately. You need to understand their policies regarding prices for the classes before you sign any paper.
Staff
Having a genuinely friendly staff is important. A staff that cares about its members and the facility is guaranteed to have a better atmosphere than a staff that doesn't care about the cleanliness of a facility or care about the needs of the members. Remember, you're paying to go there so don't be afraid to speak up if something is bothering you.
Personal Trainers
Are you interested in having a personal trainer? Most personal trainers offer a free first session and consultation which you need to understand any commitment that may be tied to that before moving forward.
No disrespect to any personal trainer, but make sure your personal trainer is competent in their training. I hate seeing personal trainers that suck and only are there to collect money from you. Make sure your personal trainer is willing to dedicate 100% of their time to you and keeps you on track; don't let them text on their cell phone or chit-chat with other people.
When joining a gym, check out what trainers are available and if possible, do research online and see if you can get any reviews.
Amenities
Many gyms offer a variety of amenities and you need to know what you need to have. If you have kids, some facilities offer child care while you are in the gym. This means you have a distraction free workout and you do not have to worry about your kids getting into anything they shouldn't.
Travel a lot? Some bigger name gyms with multiple locations may honor your membership at the other facilities. Be sure to check into this, don't assume they will honor your membership.
Are you short on time and need to have showers? Check out the bathrooms and showers to make sure that they are clean and up to code. Working out before work is a great stress release and can help you focus throughout the day, but not if you have to rush home and shower because you don't feel the showers are clean at the facility.
Some gyms offer women-only areas, movie rentals, free tanning, and other goodies. Check out what your gym has to offer and remember your "must-haves" list and "would-be-nice-to-haves" list.
Rules
Finding a gym that is inline with your goals is important. Some gyms ban certain exercises needed to strength train, some gyms ban chalk or grunting; these gyms are not meant for strength training athletes.
If you are a woman and you do not want to see a bunch of guys with no shirts on, look for gyms that have a dress code.
Hours
This might sound stupid, but some people get so impressed with equipment and staff that they forget to see the facility hours of operation. Having a gym open when it's convenient for you is important; you might have to go extremely early or extremely late, make sure they will be able to accommodate you.
Depending on your level of dedication, you may need to ask the staff about how often they close for holidays. Nothing irks me more than seeing a gym closed on a day that I'm supposed to go in because of a holiday. I don't want people to miss out on family gatherings, but if fast food places and gas stations have to stay open, why not a gym?
Some gyms offer 24 hour access with staffed hours. This is great for people who can't make it in during regular business hours.
Cost
Finding a gym that fits your budget is important. Although if a gym that will fit your needs perfectly costs more than you originally wanted to pay, I would advise trying to come up with the extra money; how much is your health worth to you?
Be sure to go over all of the fine details which might include signing a contract or being able to go month to month. Don't jump to any conclusions and sign the paperwork at the first gym! Be sure to factor in all of the amenities and other factors to make sure the gym is worth the price you will be paying. If you are looking into getting a personal trainer, make sure you can afford them and the classes you want to take.
If All Else Fails…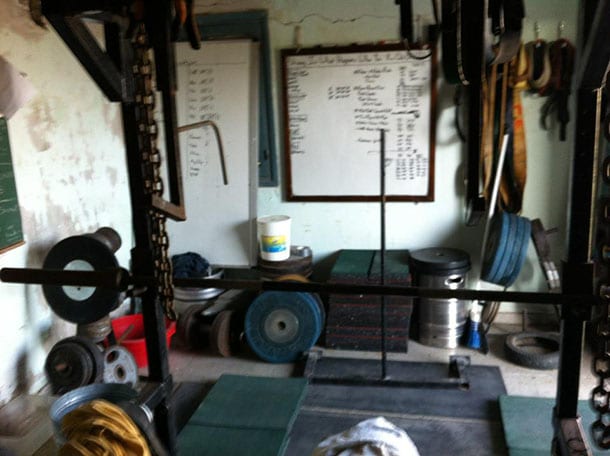 Whether you're in an area that does not have many gym choices or you just simply can't find one that suits your needs, a home gym is the next choice. When building a home gym, recognize what space you have and what equipment you will need. There are many places that you can buy really good equipment such as EliteFTS and you can get complete packages to start your home gym.
The start-up costs for a home gym are high, but the payoff is well worth the investment. If you do not have room for a home gym, look into renting a storage unit and building your gym there. The benefit to having a home gym is you don't have to wait on anyone to finish curling in the squat rack.
Gym Listings
Below is a small list of some of the bigger box gyms around that you can find around most places. This will give you an idea of some places to check out. Be sure to Google your area to get the smaller mom and pop gyms and ask around on forums.
24 Hour Fitness
Select monthly memberships grants you access to over 300 clubs
No long-term contract required
Most classes free with membership. Some clubs may not offer all classes
Classes available: Cardio, Boot Camp, Cycling, Dance, Kickboxing & Martial Arts, Les Mills, Mind & Body, Active Aging, Strength, Aqua, and Zumba
Anytime Fitness
24 Hour Tanning – Add unlimited tanning to membership or pay as you go
Club pricing available upon request
Able to visit other Anytime Fitness clubs
Curves
For women only
Free no-obligation consultation
Exercise, Meal Plan, and Coaching starting at $12.95 a week
Gold's Gym
Not much information available online, must contact for all info
LA Fitness
$75 Initiation Fee
$34.99 a month, no long-term contract
Many classes offered
Clubs generally offer areas such as basketball courts
Lifetime Fitness
Month to month memberships offered
Prices available upon request
Many programs and classes offered, all free
Latest cardio and weight machines
Family Oriented
Child Care Centers
Many member benefits
Planet Fitness
$10 a month
"No Gymtimidation, No Lunks" – Fitness and average gym goer oriented
YMCA
Memberships ranging from $20 to $82 a month
Many classes and programs offered
Great facilities with basketball courts, pools, and other activity centers
Family oriented
Child Care Centers
Have a gym that you go to and really like? Leave us a comment and tell us the name of the gym and where it's located at. Be social and like us on Facebook too!