If you've never gone into a store like Walgreens or Walmart and bought a random protein bar, you should do it.
Eating a random protein bar will give you a few things:
Indigestion
Resentment for buying it
A reason to tell everyone how crappy it is
I've tried a bunch of protein bars and the majority of them either taste like you are eating a bar of chalk with chocolate covering or eating a turd from an animal that just ate some oats and berries.
Promax Nutrition sent me some of their original protein bars to try out so lets see how they turned out.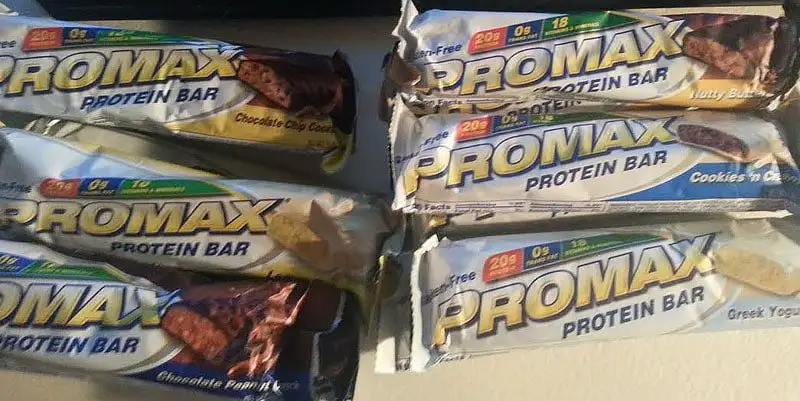 To prove that I actually tried these, I decided to take a shady shot from my phone which never seems to take a decent picture.
Product Review: Promax Original Protein Bars
Okay, let's get on with the review here.
I got to try out 6 out of the 7 different flavors of the Promax original protein bar and I hope to try out the rest of the flavors soon… More about those later.
So I knew a little bit about the company and their bars, but nothing factual that I could give you so here's some of the research I found out about these bars:
Promax original protein bars don't include any artificial sweeteners, preservatives, high fructose corn syrup, trans fats, maltitol, or gelatin.
They have 20 grams of protein and 18 vitamins, minerals and antioxidants. These may be one of the healthier bars I've ever had.
These bars are also gluten-free, certified kosher, AND vegetarian.
[bctt tweet="Promax is protein for the people."]
It speaks a lot for a company to be able to craft a protein bar that is gluten-free, certified kosher, and vegetarian.
Ingredients and Nutritional Facts
Check out the ingredients to these bars:
Promax® Protein Blend (Soy Protein Isolate, Whey Protein Concentrate, Calcium Caseinate), Greek Yogurt Coating [Sugar, Fractionated Palm Kernel Oil, Nonfat Milk, Greek Yogurt Powder (Cultured Nonfat Milk), Lactic Acid, Soy Lecithin, Natural Flavor], Corn Syrup, Soluble Corn Fiber, Fructose, Peanut Butter (Peanuts), Honey, Water, Roasted Soybeans, Guar Gum, Coconut Oil, Natural Flavor, Soy Lecithin.
Here's the vitamins and minerals they have:
Calcium Phosphate, Magnesium Oxide, Ascorbic Acid, Ferrous Fumarate, Alpha Tocopheryl Acetate, Niacinamide, Zinc Oxide, Copper Gluconate, Calcium Pantothenate, Pyridoxine Hydrochloride, Riboflavin, Thiamine Hydrochloride, Vitamin A Palmitate, Folic Acid, Biotin, Potassium Iodide, Cyanocobalamin.
Luckily Promax has a great website that I can stea….. borrow this information from – so let's get started:
Greek Yogurt Honey Nut
I can't quite put a finger on which candy bar this tastes like, but it's something that I remember having like 20 years ago and I just can't remember it. This was actually the first one I tried and I have to say I'm impressed. It seriously tastes like a candy bar but it doesn't have that "hurt your teeth sweet" feeling like candy bars do. You can really taste the honey with this. This is a good flavor for those who aren't big into chocolate or want something different from chocolate. I will get this again for sure.
Clicking the thumbnail will give you the full-sized photo.
Cookies N Cream
The next bar I tried was the cookies n cream. It's easy to mess up this flavor because there's a fine balance between too sweet, too much cream which tastes like it's stale, and just covering it with chocolate to mask the flavors.
This one nails the flavor. The texture is perfect and soft and the coating on the outside really makes the bar taste great. This reminds me of another candy bar I've had and I just can't remember which one. I approve.
Chocolate Chip Cookie Dough
Chocolate chip cookie dough had me worried because I've tried other bars that really sucked and unfortunately this was the flavor. I manned up and took a nice bite out of this bar……holy crap.
This bar tastes like the bits that get put into chocolate chip cookie dough ice cream. It's not so sweet that you feel the shame of eating a candy bar, but sweet enough you could eat a couple of them without stopping.
Nutty Butter Crisp
I wasn't sure what to expect from this flavor so when I dug in my first reaction was that it tastes and has the mouth feel of other protein bars out there. I'm not talking about the cheap crappy protein bars from Walgreens – I'm talking about the general protein bars that are okay to eat.
The flavor is good but you can taste that protein-bar like flavor. It's a soft bar and nice to eat but once you start chewing you get a bit of the grainy feeling kind of like after you eat a granola bar. They are damn good and I would get these again, but if I'm comparing them to the other Promax flavors, this would be at the bottom. (Funny enough it's still better than most bars out there)
Chocolate Peanut Crunch
This bar reminded me a little bit of a popular chocolate and peanut butter candy bar out there without that "oh my god I just took 3 years off my life" feeling from all of the sugar.
This reminds me of a good old-fashioned protein bar, an added level of mouth feel with the crunch and an overall great flavor.
Be warned, this bar makes a mess if you drop it on the ground then open it up.. haha.
Lemon Bar
I saved the lemon bar for last for a reason – I don't think I've ever had a lemon bar. I don't mind lemon flavor so I looked up the recipe to lemon bars and I didn't see anything that was a "no-go" so I dove right in.
After I opened the bar I noticed a slight lemon smell which smelled refreshing and made my mouth water. I took a bite and instantly tasted the lemon and felt a slight crunch of what tastes kind of like a graham cracker crust. It is a very refreshing flavor and I think even if you don't like lemon bars, this could be a good bar to try if you want something a little different. It's very refreshing and I could see eating this right out of the fridge on a hot day after training.
*Double Fudge Brownie
This is one flavor that I didn't get to try but I am going to have to get a couple to see if they stack up to the other flavors.
I wanted to include it in this review so you could see all of the flavors as well as the nutritional facts of each.
Other Bars
I got Promax's Original line of bars. They also have a Lower Sugar, a Pro Series line and snack-sized bars I may have to try out soon as well.
Check out the flavors for each:
Lower Sugar
Salted Caramel – 3g sugar
Chocolate Almond – 3g sugar
Honey Peanut – 3g sugar
Chocolate Mint – 3g sugar
Chocolate Fudge – 9g sugar
Peanut Butter Chocolate – 9g sugar
Peanut Butter Cookie Dough – 9g sugar
I'm not going to lie, the flavor choice sounds good.
Pro Series
Triple Chocolate Crisp
Peanut Butter Crisp
These have higher protein than the original and lower sugar bars.
Snack Size
Cookies N Cream
Chocolate Chip Cookie Dough
Chocolate Fudge
Peanut Butter Cookie Dough
These look cool, they seem to be about 30% smaller bars than their original counterparts.
Conclusion
After doing some digging around about the company info, Promax Nutrition is a stand-up company. I'm impressed with their quality and I would highly advise checking out their bars.
Their prices are fair and they are widely available.