In our world, there are a lot of foods that have chemicals and other unnatural things in them. The supplement industry is notorious for having derivatives and other unnatural things in them that we can't even pronounce.
What's more when we think of "health food" or the all natural gmo free type foods, some of us cringe thinking it's going to be horrible or not be as good as their counterpart.
Earth's Whey reached out to me to review their all natural protein supplement and I was looking forward to seeing what exactly someone can do with non gmo, clean, and raw materials.
What did I think about it? Find out below.
What's in Earth's Whey All Natural Protein Supplement?
If you would like to learn the science behind this supplement, check out this page on the Earth's Whey site.
The ingredients used in this product amazes me because of their transparency and how they want to educate you on them as well.
Flavors
Earth's Whey has 3 flavors: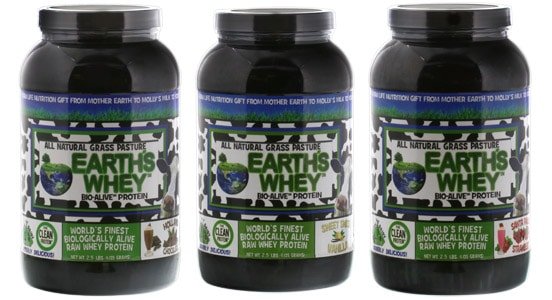 Holland Chocolate – I tried this flavor
Sweet Swiss Vanilla – I tried this flavor
Santa Paula Strawberry
Supplement Facts
Serving Size: 1 Scoop (32g)
Servings Per Container: 32 (2.5lb) / 76 (5lb)
Calories: 127
Calories from Fat: 18
Total Fat: 2g
Saturated Fat: 1g
Trans Fat: 0g
Cholesterol: 5mg
Sodium: 100mg
Total Carbohydrates: 3g
Dietary Fiber: Less than 1g
Sugars (Naturally occurring): 1g
Protein: 24g
Vitamin A: 190IU
Calcium: 180mg
Potassium: 390mg
Ingredients
Bio-Alive raw grass pasture whey protein concentrate, [cold-milled raw cacao bean (Holland Chocolate), raw Santa Paula strawberries (Santa Paula Strawberry), cold-milled raw vanilla bean (Sweet Swiss Vanilla)], raw stevia extract
Allergen Statement:
Contains milk. No wheat, gluten, or preservatives. As a raw and natural product, contents may slightly vary in taste, density, and color. Note: Not to be used for weight reduction or as a meal replacement.
Conclusion
When I first looked at the Earth's Whey website, I realized they really were trying to take over the Raw Food/pure/non gmo market with this product and I was excited to see that.
Too many supplement companies are springing up through private labeling and using the same old crap on their products and it gets old seeing this. So it was nice to see Earth's Whey taking a completely different approach to this.
I was surprised to read they use Amish dairy milk to create their whey. I've always been intrigued by the Amish and honestly I wish I lived a lifestyle closer to theirs… so this really interested me.
When I got the products and quickly opened them up and tried a Swiss Vanilla. I opened the pack and took a smell and it really smelled good. I told myself if it tasted half as good as it smelled then I would be happy.
Mixability – 9/10
While I've yet to have a protein supplement fully dissolve everything to get a 10/10, this is as close as you can get. I was using an old shaker without the ball in it (which most protein drinks I don't have a ball so it's all even here) and it shook up very well. I got the usual coating on the shaker bottle that you have to clean off when you are done with your shake. I did not have any clumps or weird "stick to the top of your shaker bottle and lick it off" powder, so I was happy to see it mixed so well.
Taste – 10/10
The taste really surprised me. The taste is about as spot on with the smell as you can get and it tastes exactly like what it should. The natural flavoring of the stevia enhances the flavor of whatever ingredient they used. So for example the Swiss Vanilla that I tried first tasted like what vanilla should taste like and it wasn't too sweet. I honestly wish I had some milk to try these in, I bet they would have been even better.
Overall I give Earth's Whey All Natural Protein Supplement an 9/10.
One thing I did not hit on yet is price. I am a firm believer in "you get what you pay for" and the quality shows here with their prices. At the time of this article publishing (10/25/15) their pricing for a 2.5lb jug is $69.95 and their 5lb jug is 109.95.
While many of you see the price tag and immediately dismiss this product due to price, you should take into consideration how pure and healthy this supplement is to their chemically created brethren.
Would I buy this? Maybe.
I like it and it definitely made me feel a lot better than when I take another protein. I didn't have the farts or any of that fun stuff we normally have when taking lesser quality products.
This product delivers quality and you certainly get a lot of value when purchasing this product. I plan on buying a 5lb tub soon to see what type of change I notice.
Trust me, it is worth the extra money to spend on a quality product than it is to bargain buy.
** For a limited time, you can pay for shipping for some sample products. I highly recommend trying to get some samples of this product to try for yourself.
Final Thoughts:
You've changed my view on how good an all natural supplement can be and I'm starting to reevaluate the types of supplements I take.
If you do order the samples and try them out, let me know what you think about them in the comments!